NXP Cup Lebanon 2019 Team off to Germany for the NXP Cup Finals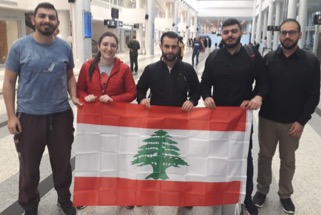 The NXP Cup Lebanon winning team: Samia Choueiry, Nashaat El Halaby , Khodor Ghayad, and Ahmad Ahmad, of AUST, accompanied by Joe Raad Delegation Coordinator, at Rafic Hariri International Airport (Saturday 27 April) on their way to the EMEA finals at Fraunhofer Center, Nurember, Germany.
We wish them and Lebanon the best of luck!
Nothing reflects the spirit of collaboration within the Lebanese universities and Lebanon as the car that will compete in Nuremberg! Three Lebanese University faculties (Roumieh, Hadath, Saida) have sent four cars to the Lebanon team to build the final competing cars and the ULFG 2 team from Roumieh has shared their coding concept to assist in improving the one running this car.
Thank you all for a wonderful start of NXP Cup Lebanon!
We are pleased to announce that the training and finals sessions (Monday 29 and Thursday 30 April) will be streamed live online as per the schedule below. Moreover, we will share with you news flashes to give you live updates on the Lebanon team!
You can read more about the NXP Cup Lebanon on http://iea.org.lb/nxpcup
Till soon!
NXP EMEA Cup 2019
Streamlining schedule and links
Monday, April 29, 2019
10.00 AM 1st Training Session: https://youtu.be/QOGIddDx5k4
03.00 PM 2nd Training Session: https://youtu.be/UEfO7zuWDss
Tuesday, April 30, 2019
08.00 AM 3rd Training Session, Extra Disciplines Competition and 4th Training Session: https://youtu.be/ClAeJ02nsao
01.30 PM Final Race: https://youtu.be/Jyw4VU4L61c