The 10 First Coder-Maker Schools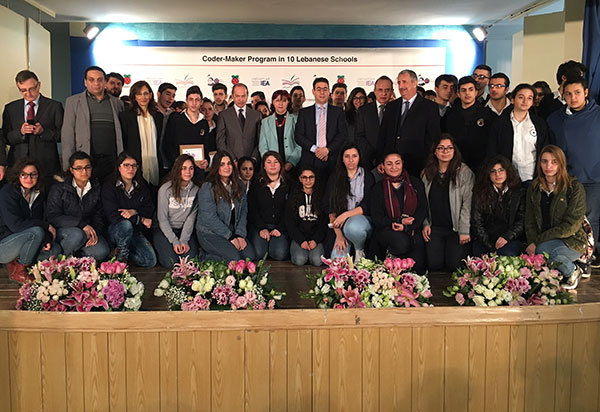 Launch
The D-day finally got there and the Coder-Maker program was launched on February 10, 2016 at Achrafieh Public Secondary School, in close partnership with the Mona Bustros Foundation and under the patronage of the Ministry of Education and Higher Education. The energy in the room was wonderful, with attendance of officials, guests, principals as well as teachers and students from the 10 schools. Amongst the display of sample Coder-Maker projects, a robot with HE Nicolas Sehnaoui holding a Raspberry Pi was circulating on the side, almost welcoming people arriving. This first phase was funded by the Mouna Bustros Foundation, with sponsorship from Microsoft, Hyundai, Alfa and Miatel.
Director General Mr. Fadi Yarak highlighted the added value of the Coder-Maker program, and the skills that it provides students for their future employment. He gave the example of Dhour Shweir Traffic Light's project, which runs on Raspberry Pi and is a premiere for High School students to implement in their village. HE Nicolas Sehnaoui, shared his wish to reach every school in Lebanon and spoke about the importance of coding in order to respond to the increasing shortage of talent and meet the needs of employment. It is not enough to equip schools with technology Sehanaoui said, so the program provides training as well. Mrs. Eliane Metni, Director of IEA, explained that the project equips schools with the affordable Raspberry Pi Labs and provide teacher professional development followed by ongoing and continuous support.
At the end of the event, a "Raspberry Pi" raffle took place and two students left winning two Raspberry Pi kits.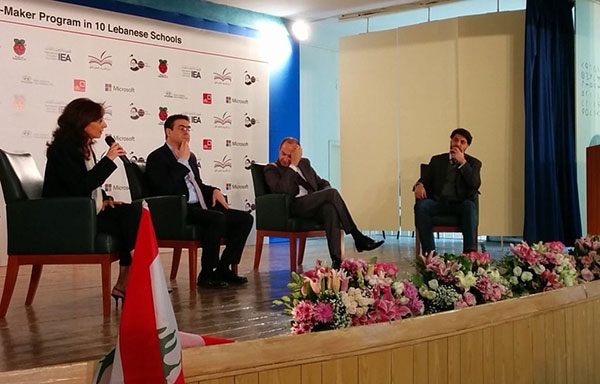 This pilot with ten schools is focused on giving Lebanese girls the opportunity to expand their scientific and technological capabilities and hence, three out of the 10 schools selected are for girls only. Coder-maker contributes to creating spaces that will ignite innovation in schools, where students can learn how to code and use their code to invent and create new things. Coder-Maker provides students with strong foundations for their future and for making career choices. In these engaging activities, students address STEAM topics and reinforce their learning with concrete examples where theoretical concepts come to life, make sense, and trigger a joy of learning.
The schools were equipped with Raspberry Pi and electronic kits and teachers participated in professional development following IEA's Learn-As-You-Work model in a blended approach with working sessions for teams of students while working on their projects. 

The professional development consists of understanding the purpose and use of hardware, learning programming languages and combining them in concrete projects, which they design and create from things around them. Building on their learning and observation of the world around them, students identify real-life problems, design solutions to resolve them, construct mock-ups from "things around them", and operate them with codes they have written.
The first 10 schools that participated were:
1) Ecole Secondaire de Laure Moughaizel
2) Ecole Al Akhtal Al Saghir
3) Kfarakka Public Secondary School
4) Jubran Tueni High School- Ashrafieh
5) Zahia Kaddoura Public HS for Girls
6) Lycee officiel Madame Aoun - Furn Chebek
7) Lycee officiel de Damour
8) Safra Public Secondary School
9) Sobhi Mahmassani Official High School
10) Ecole secondaire officielle des filles a zahle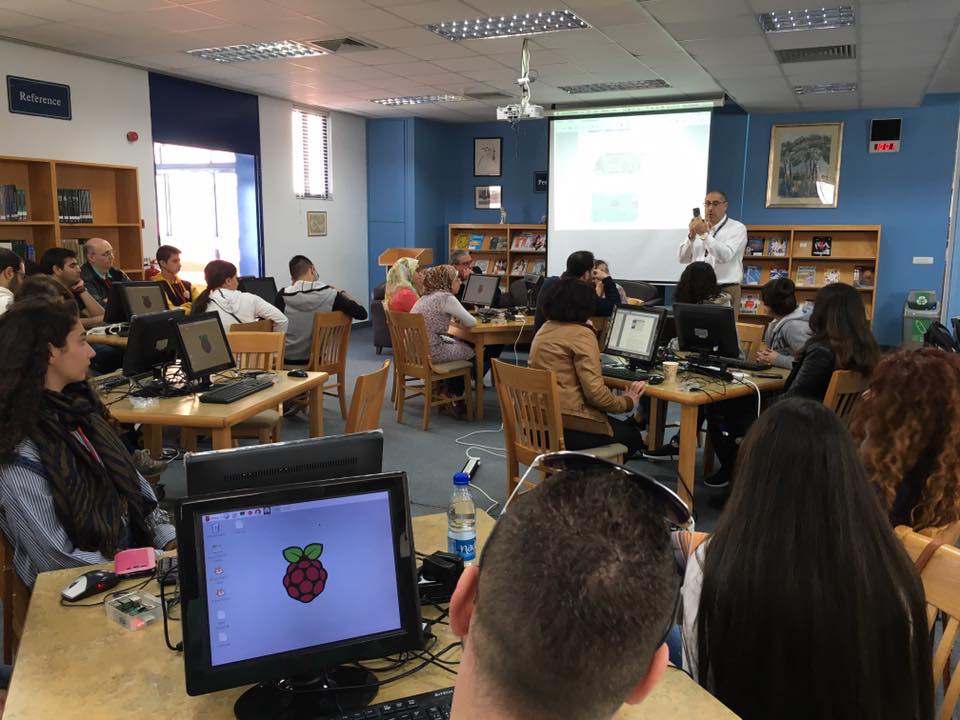 They engaged in 6 workshop dates which took place at the American Community School at Beirut on the following days:
February 27, from 9:30 to 2:30 pm
March 5, from 9:30 to 2:30 pm
March 19, from 9:30 to 1:00 pm
April 2, from 9:30 to 2:30 pm
April 9, from 9:30 to 1:00 pm
April 16, from 9:30 to 1:00 pm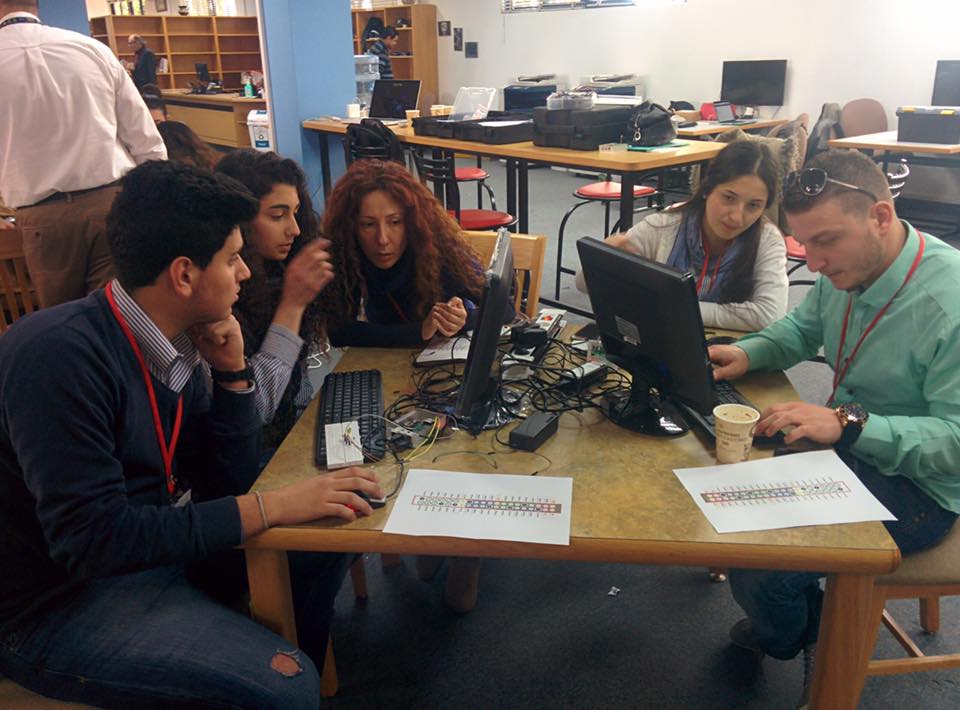 We thought it would be challenging for our students but they are really motivated (Cosette Attallah, Principal, Kfarakka Public Secondary School)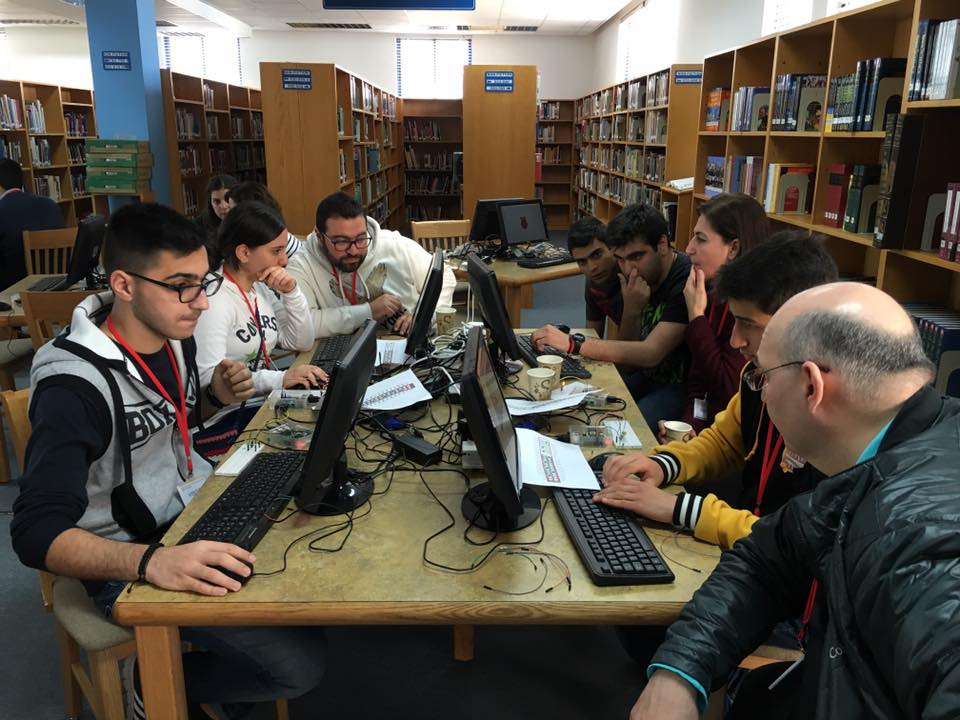 Our students are stimulated and want to join future workshops, they have so much energy to learn coding and making. (Teacher, Jubran Tueni Public High School- Ashrafieh)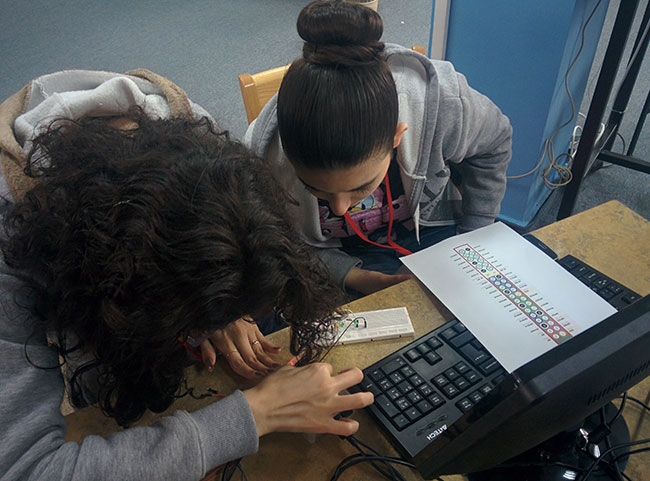 The girls really like it, they go to use the Raspberry Pi at school, applying what we are leaning and exploring further. It is really good to bring them to the workshops. (Rita Massaad, Lycee Laure Mghayzel secondaire des filles)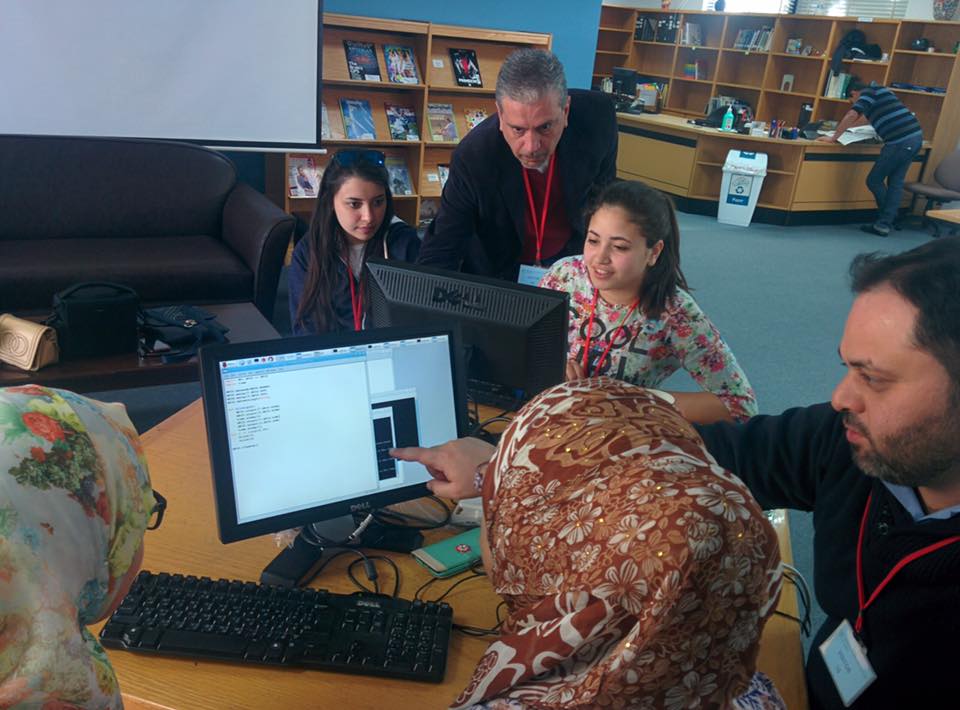 The best thing that happened is learning in this new way. I did computer studies at university and I did not invest myself in it. Where would I have been if I had learnt this way but now we can apply this with our students? (Teacher, Zahia Kaddoura Public HS for Girls)