Raspberry Pi Lebanon Competition
We run the Raspberry Pi Lebanon competition and we think it is important to do so although we truly believe in the power of collaborative learning. We have actually already run two competitions and are currently planning the third which will be held in June 2019.
The Raspberry Pi Lebanon competition is truly a community event where teams of students from Primary, Middle, High School and Technical Schools come from all over Lebanon to present their project. It is an important moment for students because it is the culmination of a year of learning where they apply and invest their skills to create a prototype that would benefit their community. Aside from learning how to design, build and code something purposeful and meaningful, students need to create a 1 min video about their project to explain why they selected this issue and in what way it will benefit Lebanon.
The theme of the completion is always "Invent for the Benefit of Lebanon" and runs under the auspices of the Ministry of Education and Higher Education in partnership between IEA and Mouna Bustros Foundation with UK Lebanon Tech Hub and Beirut Digital District. The competition is open to all students registered in schools in Lebanon!
We reach out to schools and provide free training to teachers and free working sessions to teams of students. Working sessions include teams of at least 5 students accompanied by their teacher who need support while working on their project. We provide support with the help of university students who are Coder-Maker volunteers.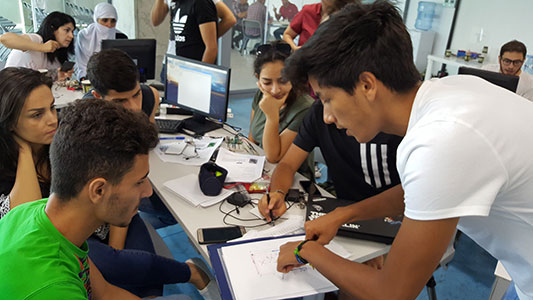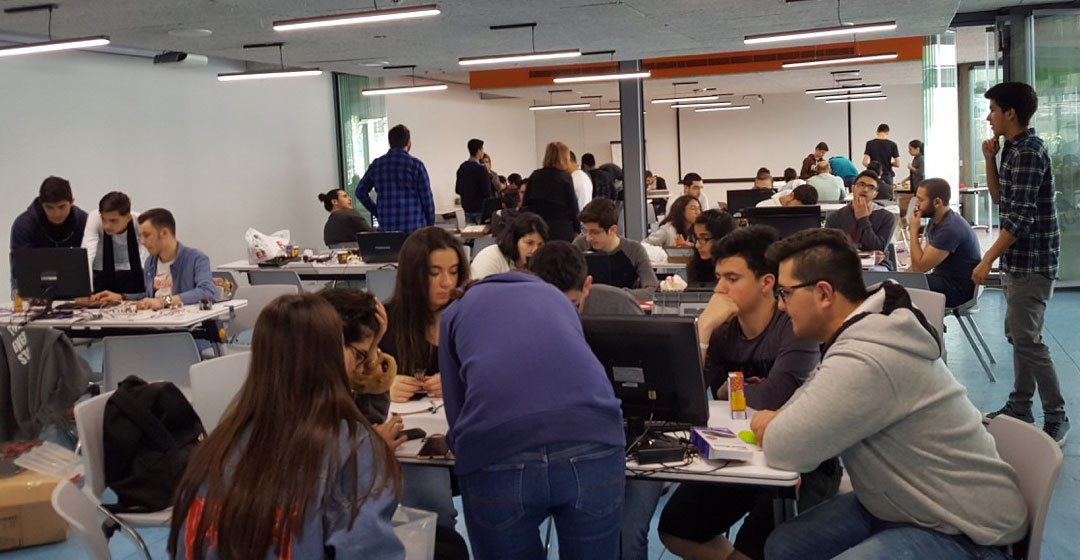 Debating possible solutions to detect two persons in school toilets to stop sexual harassment in school toilets
Teams of Students during Working Sessions
The competition follows strict guidelines that are shared early on in the year; and include the following criteria: creativity, relevance to benefitting Lebanon, team passion, simplicity, commercial and entrepreneurial potential, execution. The competition has 4 "First Prize Awards" of $500 for each category: Primary, Middle, High, and Technical or Vocational Schools in addition to an "Outstanding Award" of $1,000. A team can only win one award.
In addition, there are several trophies such as: 'Resilience" for the team who maintained motivation and optimism while facing obstacles; "Completion" for the team that continued despite all stumbling blocks and finished what they started; "Focus" for the team that kept focus and calibrated the tasks to meet the objective; "Learning from failure" for the team that learned from their failures and adjusted their processes; "Team Work" for the team that has shown team spirit and support for each other; "Code" for the team that has a well structured, clean and well written code; and "Design" for the team has the most innovative design.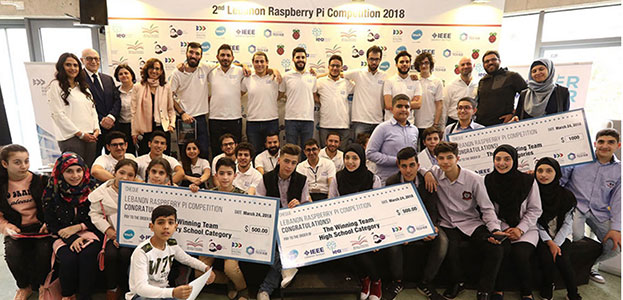 Final Awards, 2018 Picture with the volunteers