The D-day finally got there and the Coder-Maker program was launched on February 10, 2016 at Achrafieh Public Secondary School, in close partnership with the Mona Bustros Foundation and under the patronage of the Ministry of Education and Higher Education. The energy in the room was wonderful, with attendance of officials, guests, principals as well as teachers and students from the 10 schools. Amongst the display of sample Coder-Maker projects, a robot with HE Nicolas Sehnaoui holding a Raspberry Pi was circulating on the side, almost welcoming people arriving. The project is funded by the Muna Boustros Foundation, with sponsorship from Microsoft, Hyundai, Alfa and Miatel.
Director General Mr. Fadi Yarak highlighted the added value of the Coder-Maker program, and the skills that it provides students for their future employment. He gave the example of Dhour Shweir Traffic Light's project, which runs on Raspberry Pis and is a premiere for High School students to implement in their village. HE Nicolas Sehnaoui, shared his wish to reach every school in Lebanon and spoke about the importance of coding in order to respond to the increasing shortage of talent and meet the needs of employment. It is not enough to equip schools with technology Sehanaoui said, so the program provides training as well.
Mrs. Eliane Metni, Director of IEA, explained that the project equips schools with the affordable Raspberry Pi computer and basic electronics items; she explained that the teacher professional development is a continuous process, which follows IEA's Learn-As-You-Work model providing support to teachers and teams in the process of their project design and implementation. She explained that the aim of the project is to ignite innovation in after-school activities and projects and provide Coder-Maker students with strong foundations for their future and for making career choices.
In this pilot with ten schools, three are girls only schools as there is a very special focus to provide Lebanese girls the opportunity to expand their scientific and technological capabilities. In deed, Lebanese girls have proven internationally that they are successful entrepreneurs, scientists and innovators.
At the end of the event, a "Raspberry Pi" raffle took place and two students left winning two Raspberry Pi kits.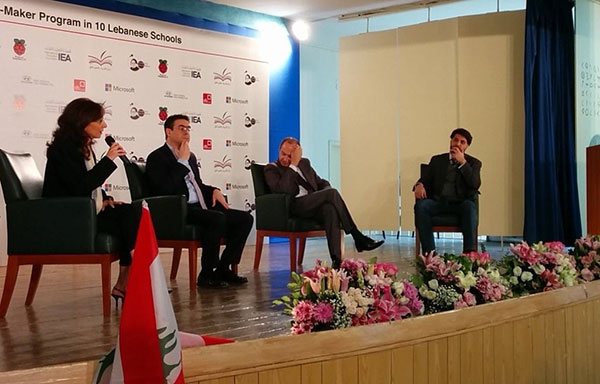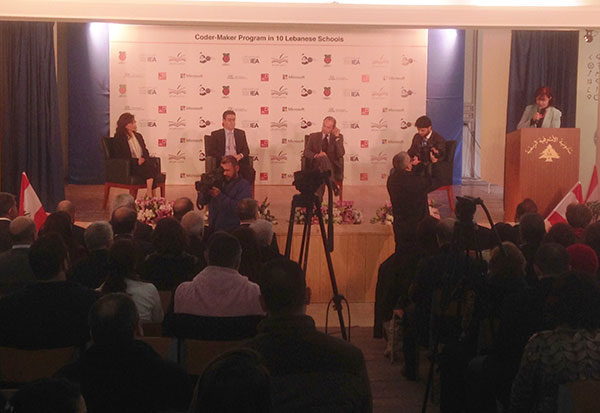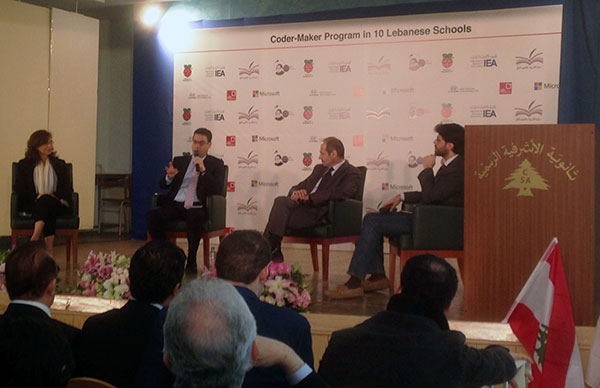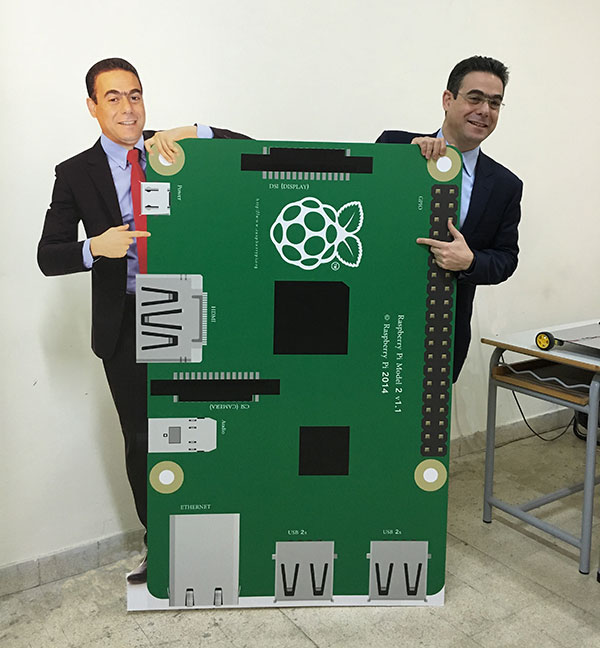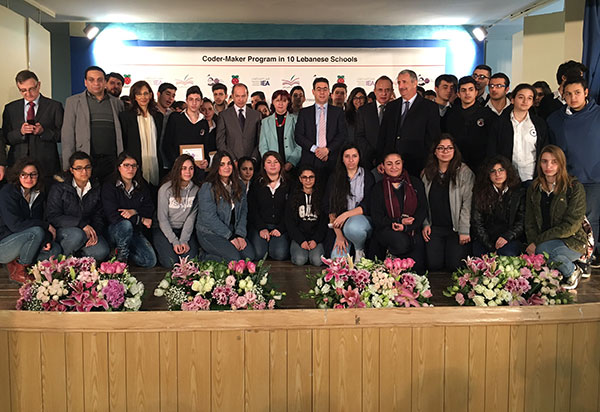 What is IEA's Coder-Maker program?
IEA's Coder-Maker projects have a strong STEAM foundation and students follow the engineering process in their project work. Students build on their observation of the world around them, identify real-life problems, design solutions to resolve them, construct mock-ups from "things around them", and operate them with codes they have written.
The program leverages PEC3 skills, Problem solving, Entrepreneurship, Critical Thinking, Collaboration, and Communication, promoting students to become producers rather than consumers of knowledge, information, and applications. In these engaging activities, students address STEAM topics (Science, Technology, Engineering, Arts, and Mathematics) in three hands-on and engaging steps. First they learn through inquiry the basics and essentials to get started, then they apply them in concrete examples. Finally, they create their own application and take ownership of their projects, which triggers a joy of learning. In the process, the scientific and technological theoretical concepts that students learn in class come to life leading to much deeper understanding.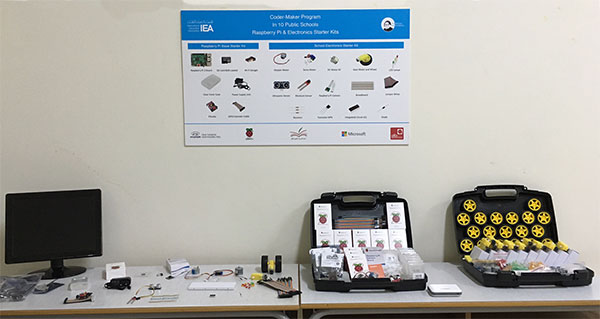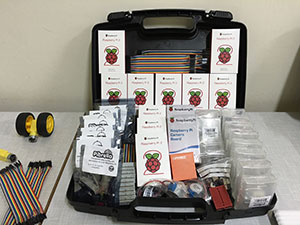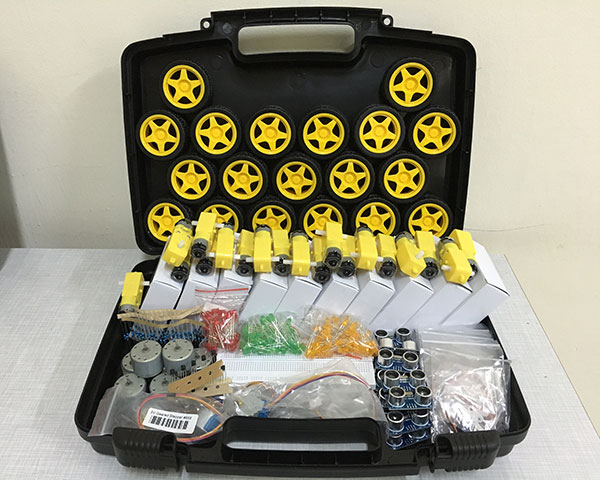 Coder-Maker Teacher Workshop
The first workshop took place on Saturday Feb 27th from 9:30 to 2:30 with teachers from seven out of the ten schools. The three schools that did not join had participated in several workshops dedicated to initiate teachers to get started on their Raspberry Pi projects with their students. They will join the third training day and receive intensive training and support.
At first teachers expressed their reluctance to join the workshop. We had an engaging conversation about the overarching goals of the project, how the program works and what their role as teachers will be in the process. It still seemed a bit fuzzy to them at first, but when they started working on the Raspberry Pi, coding, and basic electronics they felt much more at ease with the process, slowly making sense of things. Their buy-in was total.
In the discussion reviewing the day, several teachers expressed their interest in bringing students with them to engage them early on in the process and generate more student leadership. Several Maths teachers mentioned that although this was very interesting, probably physics teachers at school would be better able to lead students in the design of projects particularly that they are already taking part in other initiatives at school. All of them felt the need to clarify the structure of work at school, which will be discussed with the Ministry of Education.
It was wonderful to start on such a positive tone and to have ALL new schools participate and voice their opinion.